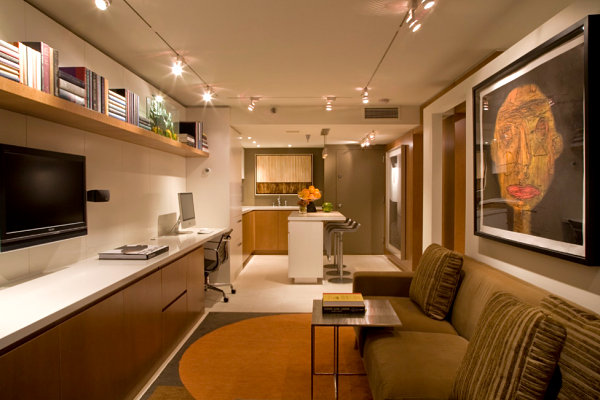 Tips for Creating the Ideal Basement Apartment
A basement apartment can be a good investment. But nowadays, any old basement apartment just won't do. If you want to have a successful lower-level living space, you need to impress potential renters right from the start.
Separate Entrance
It goes without saying, a basement without a separate entrance is no good. This is an expensive addition If you have to do it yourself, so look for a property that already has one.
High Ceiling
Ceiling height plays a huge role in the perception of space. The ceiling height should be no less than seven feet for more than 70% of the space, the higher the better. Using big pieces of art on the walls and Ceiling to floor curtains can give the impression of high ceilings. The idea is draw the eye up and therefore giving the illusion of height.
Full Kitchen
A full kitchen that includes a dishwasher is the best way to impress and command a high price. Renters do not have to scarify functionality just because they live in a basement. Providing Proper ventilation is essential both for safety and comfort and do not compromise on kitchen storage.
Separate Laundry
Even if space is tight, providing tenants with a washer and dryer that is exclusively their own is a huge plus, you can hide the machines in a closet or cupboard to save space. In fact, it can really make or break a rental agreement. If the laundry units can only be shared with the upper floors of the house, it's not the end of the world. But, keep in mind, a separate laundry will almost certainly fetch you a higher price.
Fireplace
A gas fireplace is not a must have, but it sure is a 'nice-to-have'. Basements have a reputation for being cold. While you shouldn't have any heat problems (as long as you have the right insulation and subfloor), a gas fireplace will impress renters and make the space feel cozier.
Bath and Shower
Basement apartment bathrooms should have a toilet, sink, tub and shower. Having either a tub or a shower isn't ideal. A shower without a tub won't appeal to families, and a tub without a shower is just plain inconvenient for a lot of people. In most cases a shower/tub combo will do the trick.
Heated Floors
Like a fireplace, heated floors are an added bonus that can make a basement apartment much more appealing. Floor heating the entryway and bathroom are sufficient enough, if you don't want to go to the trouble or expense of doing the entire space.
Updated Finishes
A basement apartment does not have to be plain! Updated hardware, light fixtures, faucets, and any other fixtures should be modern and stylish.
Open-Concept Layout
Open-Concept Layout that combines the kitchen, dining room, and living room in one shared space. work extremely will with a small basement apartment. It increase the view and natural light and make the space look larger and better for entertaining. A half high decorating partition can be used to separate the sleeping area to allow natural light and provide privacy.
Recessed Lighting
Since ceiling height is often at a premium, recessed lighting is always best. Chandeliers and pendants can look nice, but recessed lighting will get you the best bang for your buck, and it will look great. If you want to have a pendant over an island, or a decorative chandelier somewhere, go for it, but don't do it at the expense of recessed lighting throughout.