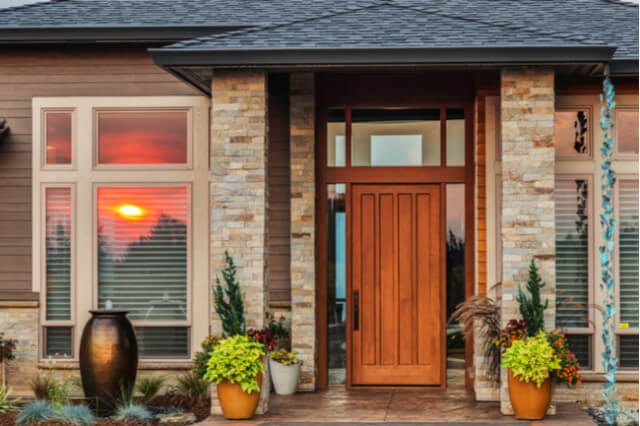 Whether you want to increase the resale value of your home, or you just want it to look its best inside and out, nothing does both like the look of stone crafted designs. Yet, natural stone can be prohibitively expensive.

Most new homes that appear to have a stone facade are actually stone veneers which are a manufactured stone that looks like a real stone. Stone veneer has become very popular because it weighs less eliminating the need for wall ties or footings and makes it cheaper to install. It also costs less and is available in a variety of colours and designs making it easier to coordinate with the style and colour or your new home. A quality veneer is also extremely durable, ensuring it will protect your structure with little maintenance giving your home lasting appeal.

You can create a striking, beautiful contrast by combining brick and stone. Brick endures longer than virtually any siding material and will maintain its beautiful look. Another benefit to brick is that it is more soundproof than other sidings to create a quiet and cozy interior.

If you're performing a home renovation, a stone veneer can easily be applied over wood or stucco. The relatively simple upgrade adds tons of curb appeal and increases your resale value.

How to Install Stone Veneer Siding
Get the look of real stone without the high cost by following these easy step-by-step instructions:

Step 1: Create Your Design
First, create the pattern you want on your exterior by drawing it out on graph paper or using computer software. Next, lay the veneer stone on the ground in the pattern you have designed to ensure you have enough stones.

Step 2: Create a Moisture Barrier and Add a Wire Mesh
If you're covering wood you'll first need to create a moisture barrier by applying roofing felt or house wrap over the surface with nails. This step is not necessary for masonry walls. Attach a wire mesh to the wall with nails or screws. This will become part of the base that holds the stone veneer to the walls.

Step 3: Apply Mortar and Attach Stones
Once the wire mesh is attached, apply mortar approximately 1/16" to 1/8" thick with a trowel. Apply mortar to the stone and attach it to the surface working in a horizontal pattern and leaving a small gap. Hold the stone against the surface until it sets. Be careful not to get mortar on the surface of the stone.

Step 4: Finishing Touches
Since laying stones is a bit like putting a puzzle together, not all the pieces will fit perfectly. Use a power saw with a masonry blade or grinder to reshape the stone to fit. Fill gaps and small spaces with grout to prevent moisture from getting through.